Accounts Receivable
Faster, scalable,
secure invoice processing
Automate data extraction from invoices Customer details, invoice numbers, payment terms, vendor data, amounts, taxes.


One-click extraction, classification, and organization.





Printed and handwritten text.





Access control, encryption, and audit trails to protect sensitive data.





Real time analytical and AI reports.
Medical Billing
Faster reimbursement,
improved cash flow
Automate data extraction from medical documents patient demographics, diagnosis codes, procedure codes, insurance details, billing codes.

Improve billing accuracy through validations and error checks.





Accelerate the billing cycle.





Reduce the risk of claim denials and rejections.





Delays in reimbursements.
Compliance
Streamline regulatory compliance


Process, analyze, and validate large volumes of documents efficiently.





Access control, encryption, and audit trails protect sensitive data.





Security and privacy measures in compliance with GDPR, HIPPA and GxP guidelines
Patient data becomes more accurate and increases efficiency across the enterprise.



IDP for healthcare uses advanced AI-based technology with human oversight to electronically manage key patient information at admission and throughout the patients' medical journey.
The Xen.AI Intelligent Document Processing solution helps eliminate misinformation and errors automatically before they get spread through the medical system and stored. This will allow the medical team to focus on the patient's health rather than members of the medical team working to resolve demographic and report errors.

The Xen.AI solution IDP is a managed service that utilizes software as a service (SaaS) is on-demand software hosted on a cloud service provider. The subscription-based solution uses software licenses that medical facilities pay for on a monthly basis. So lower implementation cost, increased scalability, accessibility and very secure.

OCR is used to convert images of text into machine-readable forms.



Computer Vision is used to derive meaningful information and understanding from videos and digital images, it works to understand a document's structure.




Machine Learning is used to learn from data to identify patterns and make decisions with minimal human intervention.



Natural Language Processing (NLP) is used to interpret, manipulate, and comprehend human language that is presented.



Utilizing these tools, we can Ingest Data and Preprocess, Classify Documents into different categories. We can then Extract data from various content and Validate the data against internal/external data. Staff review is used to deal with outliers. We then Integrate the Data into applications for use in referencing the patients' medical profile.
Healthcare Organizations can benefit in many areas. These benefits can include:
Improved workflow




Prevention or reduction in human error

Improved accessibility


Reduced operational costs

Improved security

Patient Trend Analysis
IDP allows you to manage large amounts of patient data, increasing its accuracy while improving the efficiency of the induction process.
Health organizations ingest and produce a large volume of data for every patient. The health organization then makes the data available to electronic health records (EHRs). Accuracy and efficiency are key to the patient's outcome
Features
---
SaaS application that can be hosted on a public or private cloud.

In-built automation to process documents from source to destination.

Role-based user access to ensure the right people have the right access to the documents.

Ability to handle structured, semi structured, and unstructured data.

Human-in-the loop model to enable users to provide feedback on the tasks performed by the application, for example, to validate the extracted data.

Ability to detect and redact sensitive data such as PII.

Document classification in order to categorize documents according to
user-specified label.

Powerful search functionality to search through a repository of processed documents.

Alert mechanism to raise alerts at pre-specified events.

Support for integration to downstream systems.

Customizable dashboard providing wide ranging analytical and machine learning based insights in real time.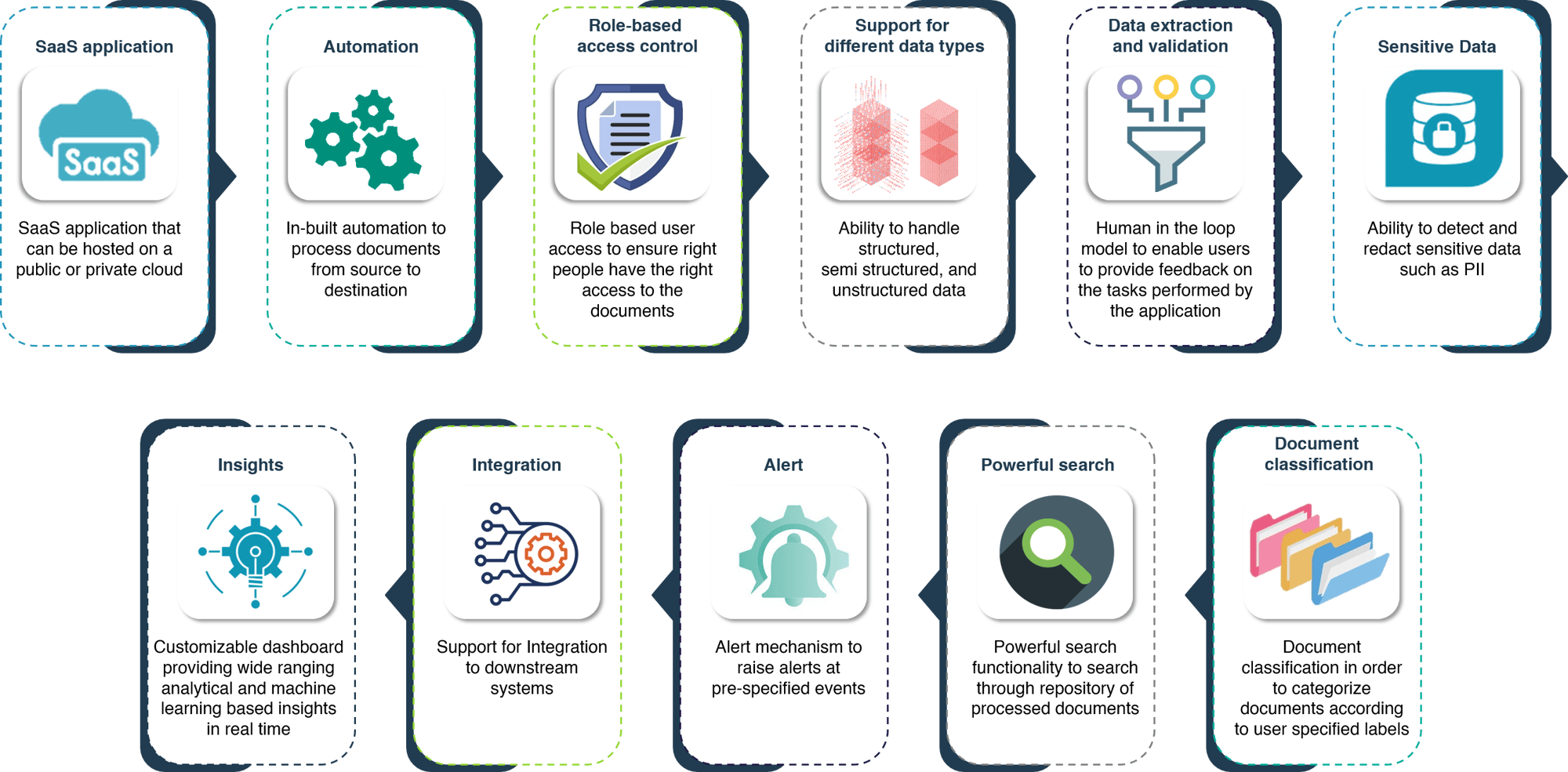 Download the Whitepaper.
Download your copy of our innovations in Xen.AI Intelligent Document Processing whitepaper to discover how artificial intelligence and machine learning are increasing the practicability of document processing
IDP Demo Video
Share your contact information by scheduling a demo so that we can respond to your IDP free demo inquiry.


Our Solution
The business need is to quickly extract the data locked within the documents and make it available for further processing in the downstream processes.
Xen.AI Intelligent Document Processing automates and simplifies the task of extracting data from business documents significantly reducing the processing time, minimizing the need for manual intervention, and allowing the freed up worker to focus on higher value tasks. This results in direct cost savings, a better understanding of the enterprise data, and a rapid ROI with increasing volume of data being processed through Xen.AI's document processing service.
Talk to an expert
Extraordinary competence produces astonishing results.
Our team of world class domain experts bring deep knowledge of the business processes and industry best practices into our solutions.