Get a holistic and unified view of your customers across all channels and touchpoints
The customer analytics solution uses artificial intelligence to provide a subset of business analytics that focuses on metrics that tell you more about your customers. It tells the story of where your customers come from and how they make decisions. It empowers businesses to deliver personalized and customized experiences to their customers. By leveraging customer data, businesses create tailored product recommendations, personalized marketing messages, and individualized promotions. This level of personalization enhances customer engagement, fosters customer loyalty, and drives customer satisfaction.
Overview



Customer analytics is the systematic examination of a company's customer information and behavior to identify, attract and retain the most profitable customers. It is a process by which data about the customers is used to help make key business decisions via channel optimization, market segmentation and predictive analytics. This information is used by businesses for direct marketing, site selection, and customer relationship management. With customer analytics, businesses can increase response rates, customer loyalty and ultimately ROI by contacting the right customers with highly relevant offers.



What makes Customer Analytics relevant and a key component of any business?
Gartner Survey Finds Customer Data and Analytics as Top Priority for Achieving Customer Service and Support Goals in 2023

Customer service and support leaders cited customer data and analytics as a top priority for achieving organizational goals in 2023, according to a survey from Gartner, Inc.

In a Gartner online survey of 283 customer service and support leaders from August-October 2022, 84% of customer service and service support leaders cited customer data and analytics as "very or extremely important" for achieving their organizational goals in 2023. Eighty percent of respondents ranked digital channel effectiveness as "very or extremely important," along with employee performance, development and quality assurance.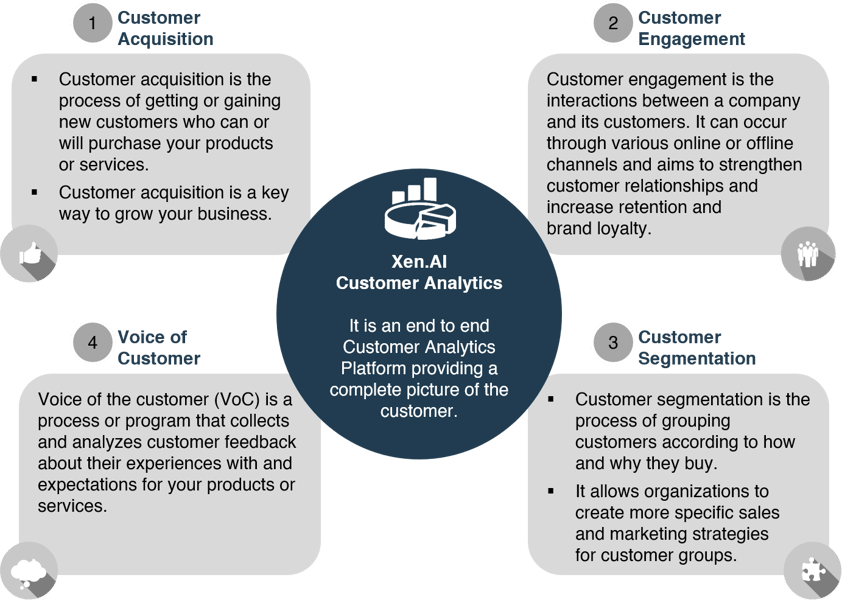 What problems are we solving?
---
Customer Acquisition
What is the cost of acquiring a customer?





Where do my customers come from? What are the most common channels of customer acquisition?

Customer Engagement


What key products or service offerings are most liked by my customer?





What are some of the important touch points in sales conversion?




What is my customer lifetime value?
How engaged are my customer?



Which group of customers are likely to churn?




Customer Segmentation
Who are my customers? What are their key characteristics -
demographics, psychographic, behavioral, geographic, and risk-based segmentation?



Who are my active customer in the last completed business cycle?

Voice of Customer
What is the customer feedback about my product / service?


What does the social media sentiment for my brand look like vis-à-vis competitors?


Are there any relevant influencers who can be leveraged to increase
brand awareness?



Our Solution
Xen.AI Customer Analytics benefits your business in higher customer satisfaction and retention, lower lead generation and acquisition costs, increased sales and revenue, better brand awareness, and increased customer engagement.

Xen.AI Customer Analytics assist you in developing strategies to retain loyal customers and decrease churn. Our technologies also allow you to segment your offers, develop client interactions, Cross-sell opportunities and build consumer loyalty.
Talk to an expert
Extraordinary competence produces astonishing results.